The Parker Unified School District "character" word of the week for January 23 – January 27, 2023, is TOLERANCE- respecting the beliefs or practices of others

Thursday is Crazy Cap(tain) Day (wear a hat) for Red Ribbon Week. Talk to your kids this week and set clear family rules on not using drugs. "Let's put a cap on drugs!" Post your pictures daily on the PAACE Facebook page @PAACEParker

Wednesday is Wear Red Day for Red Ribbon Week. Set a good example for your children by not using illegal drugs or medicine without a prescription. "We wear red as a pledge to be drug free!" Post your pictures daily on the PAACE Facebook page @PAACEParker

Tuesday is One Fish, Two Fish! (Twin Day) for Red Ribbon Week. Remind your kids about the dangers of drugs. It is "o-fish-ally" great to be drug free! Post your pictures daily on the PAACE Facebook page @PAACEParker

Flu shots on Wednesday, October 12th. Permission slips went home on Monday 9/26. Please return permission form as soon as possible. Tendremos la vacuna contra la gripe el Miércoles 12 de Octubre. La forma de permiso para esta vacuna se enviará a casa este Lunes 9/26. Por favor regréselo a la escuela lo más pronto posible.

IMPORTANT: Sept. 14 volleyball match at Ehrenberg CANCELLED

REMINDER: School starts Monday, Aug 1, at 8:00am! Masks are required. We are excited to see you!


REMINDER: Rebels Rise Quarter 4 Awards Show is tomorrow at 9:00am (K-3rd) and 10:00am (4-8th).

IHS is coming to Le Pera to offer Flu & Covid vaccines to families on May 17. See the flyer for details.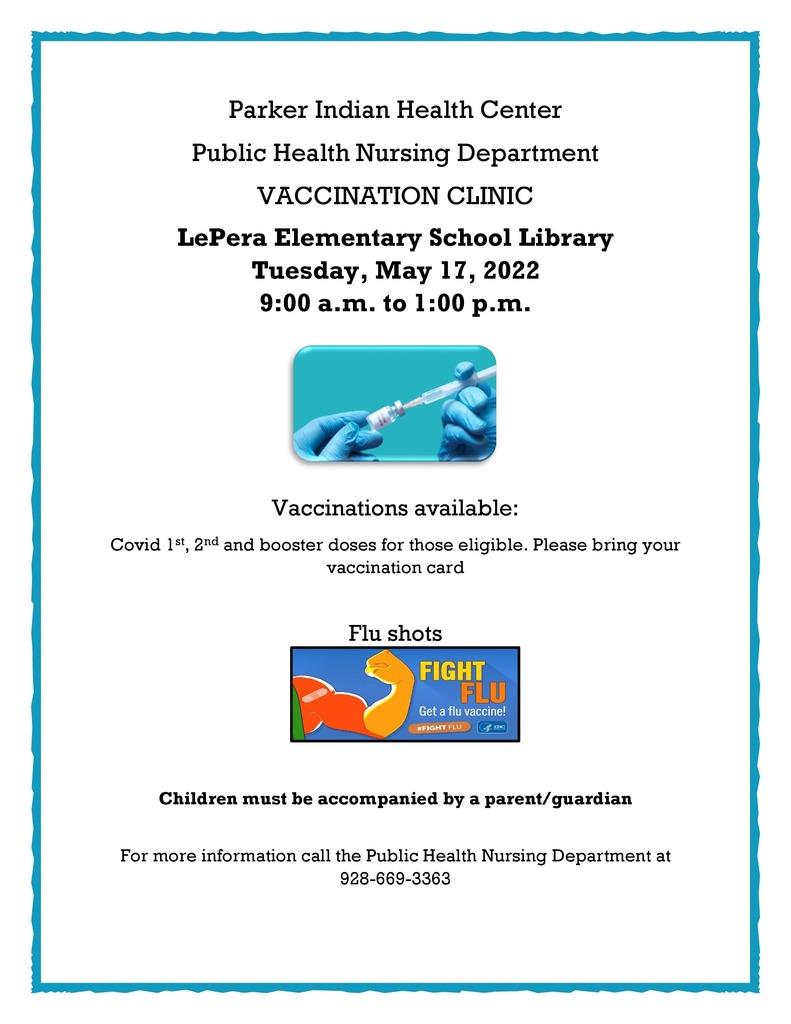 Le Pera has 16 crates of fresh grapefruit for sale. $5 per crate! Contact the office, if interested.

Le Pera is selling fresh grapefruit & oranges from our garden (4 for $1.00) in the main office.

Welcome back to school, Rebels!

BREAKING NEWS: The Rebel Family has collected over 1,650 canned goods and other items for the Parker Food Bank! Rebels rise!

REMINDER: Students will be released at NOON tomorrow. There will be no bus passes allowed. We will return on January 3rd.

Padres/Guardianes: El Departamento de Salud del Condado estará enviando por correo tarjetas de vacunación a los niños que recibieron las vacunas de covid. Estas llegaran en unos días. Puede llamar a la escuela al 928-662-4306 si tiene alguna pregunta. Gracias!

Parents/Guardians: The La Paz County Health Department will be mailing Covid Vaccine cards to students who received the vaccine in the next couple of days. You can call LePera at 928-662-4306 if you have any questions. Thank you!

District Schools' early release times : Blake and Le Pera: 1:30 pm, PHS: 1:48 pm, WES and WJH: 1:50 pm

Le Pera will be picking more lemons from the school garden on Friday, December 3. You can purchase 4 lemons for $1 in the LP office!

Don't forget about the Turkey Trot TODAY! Kindergarten will start running at 8:30am. If you are planning to watch, please be sure to wear a mask! Turkeys can be picked up in the office.